Multidisciplinary team, specialists in pedagogical design, development of multimedia content and quality assurance
Our focus is to create meaningful learning experiences with a positive impact, meaning they generate enthusiasm for the topic, engagement with the learning journey and promote long-term learning.
We design memorable and innovative learning experiences with a goal to train and develop employee skills'.
Experience and focus on solutions that meet objectives
ISQe has wide experience of developing training solutions and specialist contents. The experience accumulated over several years of operating in the market and with companies from different sectors offers a series of advantages in working with us:
Digital Learning Experience
Design of rewarding digital experiences – memorable learning journeys (UX and UI Design).
Development of customised learning experiences in different formats (immersive VR/AR experiences, gamification, games, interactive videos, microlearning, quizzes, infographics, communication and engagement plans).
Digital Content Library
Standard courses for corporate licensing in various thematic areas (eLearning courses)
Course Catalogue Subscriptions, Content Anytime or partners "À la carte"
L&D Experts Development
Preparation of internal Learning & Development teams
Content development framework
Instructional design
E-Tutor;
Authoring tools (Storyline)
Outsoursing
Outsourcing services in Instructional Design, Technological Web and Mobile Development, Platforms and Helpdesk Administration.
FRAMEWORK DIGITAL LEARNING
Robust working model, supported by a Multidisciplinary Team, specialised in pedagogical design, multimedia content development and Quality Assurance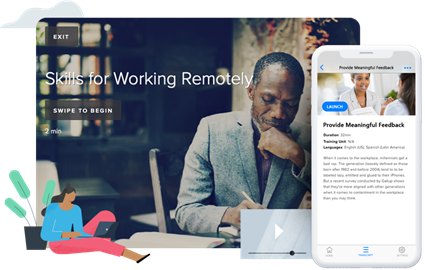 Our digital contents are complemented by the Content Anytime course catalogue promoted by our partner Cornerstone. This is a repository of pre-defined and catalogued contents, providing access to a vast range of topics and contents, to suit the Client's interest.
CORNERSTONE CONTENT ANYTIME