Support and Maintenance Service – Supply Guarantee
With implementation of each project, we envisage a maintenance and support period after system goes live.
Support Team Skills
All of ISQE's support team have the skills needed to provide client support and are certified as required by the Cornerstone Software house in the case of Cornerstone on Demand projects.
Cornerstone onDemand Projects
Cornerstone OnDemand has been shown to have a relationship model with three focal points, contributing to a full rate of retention. We believe that, over the course of our partnership, there is room for constant dialogue on business impacts, solution strategies and configurations. We have team members with the profile for each of these areas.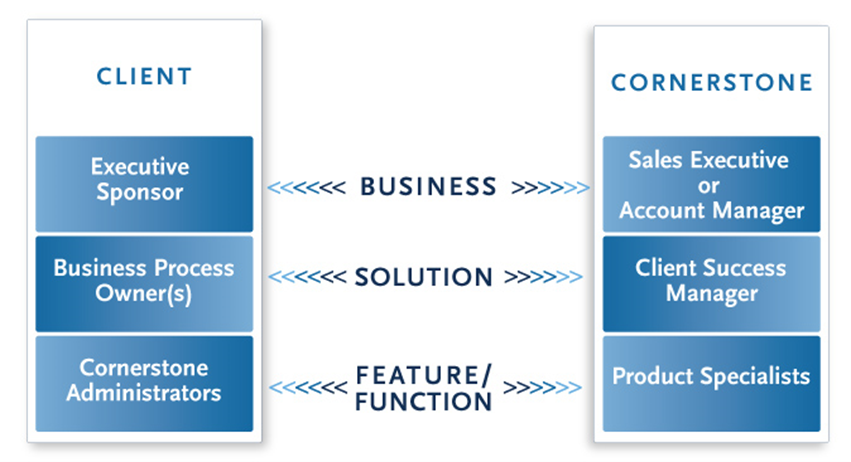 On the client portal, the client will be able to open tickets (in line with the SLA presented) where he will have an all-round product specialist who will find the best solution for the issue raised.
Service management – Incident and Problem Management
Beyond the project life cycle, management in line with the systematised methodologies described, we also offer a structured Support Service. By means of the SLA terms formalising the service baseline, we provide an assurance that pre-established business needs are effectively delivered in accordance with the quality attributes. SLAs are also established for support, incident management and response to general issues. A commitment is therefore made to supporting users at all stages and in all their actions in the system. Any non-compliance with SLAs relating to availability will have financial impacts. This method demonstrates our confidence in the quality of the platform, which has proven its worth, and also our total client-orientation. In addition, in the light of good service practices, all SLAs contain a description matched to levels of business criticality, from service requests with no impact on productivity through to the definition of major incidents, allowing for efficient management of resources and focus on client satisfaction.
All interaction relating to support requests and SLA management is managed in a client portal, offering transparency and the convenience of self-service. This information is the source of analysis with a view to learning the causes related to the service events and the taking of proactive action, on a continuous improvement basis.
Helpdesk and processing of incidents
ISQe has a "Helpdesk Complaints Processing" process that describes the whole process from identification and analysis of the complaint or support request through to the moment it is closed, triggered after the logging of a complaint or support request.
Monitoring and Service Levels Reports
The communication plan provides for monitoring/progress reports, and management responsibility is assigned to the project or client manager and stakeholder communication at the agreed intervals.