23 Feb

Experiências e Learning Journeys
Experiências e Learning Journeys com significado e impacto
Li recentemente num artigo do "great place to work", que as tendências de rh em 2023 passam por empoderar as pessoas com "novos soft skills, o aperfeiçoamento de capacidades técnicas, projeção de carreiras e a criação de novos postos de trabalho". Este status é auspicioso para alguém que como eu gere uma área de Digital Learning Experience, não fosse o nosso foco aliar tecnologia, engagement, flexibilidade e a disponibilidade necessários para cumprir este objetivo, num único produto. Sabemos que 80% dos gestores assumem que o maior desafio do seu negócio é a necessidade de aquisição de novas competências e que, do lado dos colaboradores, as oportunidades de desenvolvimento se tornaram o segundo fator mais relevante para o índice de felicidade no trabalho. Ainda assim a verdade é que a urgência do trabalho supera invariavelmente "o luxo" da aprendizagem, coloca-se então a questão: perante um cenário onde o desenvolvimento de competências se tornou imperativo, como é que a aprendizagem é encarada como um luxo? Josh Bersin afirma que para que a aprendizagem seja efetiva é necessário que esteja alinhada como as necessidades do dia a dia, o que muda necessariamente a visão sobre a aprendizagem corporativa olhando-a como um percurso que se mistura na rotina do colaborador e não como um destino a alcançar. É neste espaço que reside a resposta à pertinência, urgência e incontornabilidade do "eLearning" na formação profissional, esta metodologia permite-nos materializar o conceito de "learning in the flow of work". Garantindo os formatos certos, através de um bom design thinking, e a tecnologia adequada por recurso a plataformas que sirvam verdadeiramente as necessidades de aprendizagem, podemos construir soluções e experiências que tornem a aprendizagem quase invisível no decorrer do trabalho do dia a dia.
O foco do ISQe em criar experiências e learning journeys com significado e impacto, que promovam resultados duradouros e que gerem hábitos de aprendizagem a longo prazo, traduz precisamente o status das organizações no que diz respeito à visão atual sobre os temas da formação. O hiPitch por exemplo, um dos nossos novos produtos de Digital Learning, traduz precisamente o que vimos a descrever: uma ferramenta que permite "just in time" formar, treinar e avaliar, elevar competências comportamentais, comunicacionais ou mesmo de vendas para outro nível.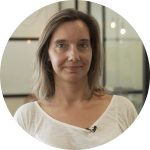 Rute Ferreira, Head of Digital Learning eXperience no ISQe
Este artigo foi publicado na revista Human, edição 141, janeiro-fevereiro 2023.