19 Ago

Cultura corporativa adaptada aos nossos dias, flexível e assente nas pessoas
Cultura Corporativa adaptada aos nossos dias, flexível e assente nas pessoas
O ISQe adotou uma nova metodologia de trabalho:
sem barreiras, flexível e sem dependência de um espaço físico.
Mas não se limitou a aderir ao híbrido.
A pandemia transformou o modelo de trabalho tradicional, designadamente quanto ao local físico dos colaboradores. Como se posiciona o ISQe neste contexto de mudança?
O ISQe assumiu, no início de 2022, uma nova fase em relação à sua metodologia de trabalho e gestão de pessoas. Temos hoje uma estrutura resultante de um incremento acentuado de colaboradores, fruto dos últimos dois anos e, naturalmente o duplicar do número de colaboradores traz novos desafios operacionais e de negócio mais exigentes, atendendo de forma incontornável também ao contexto de pandemia que atravessámos e as aprendizagens que daí resultaram. Para este modelo de trabalho, em toda a sua abrangência, adotámos a designação de Connected Workplace. O Connected Workplace caracteriza-se pela dinâmica de trabalho dos colaboradores e a sua relação com as diferentes áreas de negócio e recursos disponíveis de suporte à operação. Está assente sobre um modelo produtivo de trabalho sem barreiras à comunicação e colaboração, flexível sem dependência de um espaço físico, e que potencia um modelo híbrido de trabalho, assente sobre o nosso conceito WAVE (Work Anywhere according to our Values and Engagement). Este modelo pretende assim contribuir para a generalização de um ambiente de trabalho assente na colaboração, partilha, flexibilidade de posto de trabalho, disponibilidade e adaptabilidade. Visa, também, incutir uma cultura corporativa moderna e inovadora, alinhada com a realidade organizacional, o potencial da empresa enquanto player de mercado e a envolvente socioeconómica atual.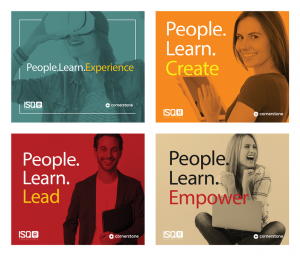 A tecnologia assume um papel fundamental num modelo de trabalho híbrido. Que soluções utilizam para que este seja eficaz?
Na prática, podemos afirmar que o Connected Workplace é todo ele um ecossistema tecnológico totalmente integrado que se baseia em três pilares – pessoas, processos e tecnologia e todos eles contribuem para a construção do Employer Value Proposition ISQe. Nas pessoas, consideramos o onboarding, a comunicação contínua interna de engaging, os encontros trimestrais de toda a equipa e as atividades de equipa focadas na criatividade e inovação. Nos processos, o cumprimento das regras e boas práticas impostas também pelas certificações do ISQe, ISO 27001 e ISO 27701, a avaliação de desempenho, o reconhecimento por pares e chefias, o prémio de produtividade, a implementação do medidor de índice de felicidade e o conceito de trabalho híbrido WAVE. Na tecnologia, a comunicação e colaboração através do Office 365 e Teams, o recrutamento, a formação e a avaliação de desempenho através
da plataforma Cornerstone, a gestão de projetos, o registo de atividade e o suporte ao cliente através de uma plataforma CRM, a gestão de espaços e hotseats através da nossa ferramenta Workinoffice e o acesso centralizado através do nosso portal People, que é a porta de entrada para o nosso Connected Workplace e para toda a gestão de processos de RH.
Dão destaque à formação social, ou seja, ao que aprendemos uns com os outros. Com o desenvolvimento do trabalho remoto, como se evita esta perda importante de conhecimento dentro da empresa?
Promovemos e queremos reforçar o conhecimento informal e a partilha de experiências entre as equipas. Aliás, as nossas equipas, hoje em dia, já têm momentos de encontros dedicados apenas à partilha de conhecimento e inovação. Nesse sentido, as tecnologias de suporte à operação como o Teams permitem transpor também para o online estes momentos. Por exemplo, uma das iniciativas internas que estamos a implementar, também neste âmbito, são as nossas ISQe Talks, que embora realizadas fisicamente a partir do nosso escritório poderão ser assistidas e ter intervenções de forma síncrona também online.
Ainda falando na tecnologia, no caso da liderança, como a tecnologia pode ajudar na gestão da equipa à distância? Quais as melhores práticas que estão a implementar?
Promovemos uma Liderança humanizada, em que é realizado um acompanhamento próximo de projetos e pessoas, como uma prática essencial. As reuniões de equipa ou one to one têm ocorrência regular predefinida, presencial ou online, por forma a otimizar agendas e recursos, e trimestralmente, são promovidos encontros que envolvem toda a estrutura com o objetivo de comunicar resultados e progressos.
Em termos de instalações e soluções cedidas aos colaboradores também foram introduzidas alterações decorrentes deste modelo de trabalho híbrido?
 O escritório é o nosso espaço privilegiado para o onboarding, reuniões de brainstorming e design thinking, reuniões de área ou reuniões de equipa de projeto, sendo que cada colaborador pode definir a sua presença no escritório em função das atividades a realizar semanalmente e de acordo com as indicações do respetivo gestor de cada área de negócio.
Estamos neste momento a reconfigurar todo o nosso escritório, que contempla não só um rebranding mas também alterações físicas e otimização dos espaços e mobiliário orientado a este novo modelo de trabalho, para que desta forma seja assegurada a flexibilidade dos postos de trabalho, em que cada colaborador reserva o melhor espaço para as atividades que tem a realizar.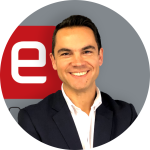 Pedro Reis Coelho, Diretor Sales & Marketing no ISQe
Esta entrevista foi publicada no suplemento especial de Best Practices HR da RH Magazine, distribuído em conjunto com a edição 140, Maio/Junho 2022,  da RHmagazine .